Course Information
The recognised standard for workplace First Aid training.
Date of Next Course: Thursday 3rd December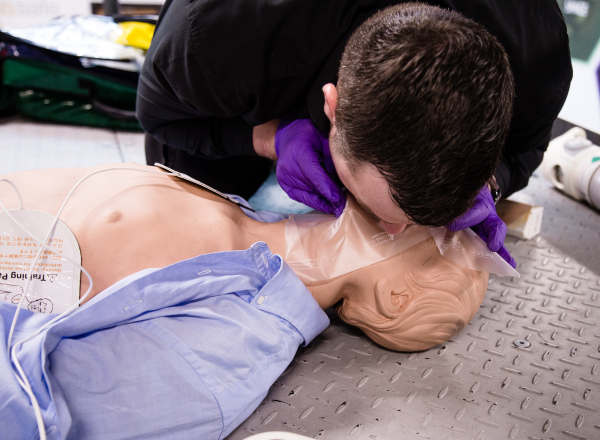 Venue: Fire Service Headquarters, Hessle - Nr Hull or customers site
Duration: One Day
Duration: Two Years
This Emergency First Aid training course meets the minimum recognised industry standard for workplace first aid training and satisfies all the recommendations of the HSE's guidance.
This level 2 standard, is aimed at first aiders and covers basic first aid skills to handle an emergency medical incident and sustaining life within the workplace such as choking, CPR, heart attack and recovery position. Delegates will be reminded of how to safely and effectively recognise common of illnesses/injuries and be able to use simple management techniques.
The One-Day Emergency First Aid Training course syllabus provides a comprehensive insight into emergency first aid principles and administering best practice techniques to help maintain a safer working environment.
The course content covers the following key topics of emergency first aid:
| | |
| --- | --- |
| AED | Angina |
| Children | Choking |
| CPR | Heart attack |
| Heart rhythms | Hygiene |
| Post-traumatic stress | Recovery position |
| Resuscitation | Safety |
| Survival rates | Unconsciousness |
Course Benefits
Include:
Extensive syllabus delivered by highly experienced first aid and medical subject leads
Delegates competency levels increased
Provides delegates with the basic principles of emergency first aid
Learning Outcomes
By completing the One-Day Emergency First Aid training course, delegates will increase their skills, and competencies to safely administer emergency first aid in the workplace and benefit from the following learner outcomes:
Confidence to treat a patient promptly
Better prepared to handle first aid incidents
Ability to safely administer first aid at work
Greater capability to deal with first aid incidents
Relevant Legislation
For any of your employees who act in the role of a first aider or medical responder, they must have a good understanding of first aid legislation and how this may impact on your business. We have enclosed some resources, which you may find useful;
The Health and Safety (First-Aid) Regulations 1981
General Health & Safety Legislation
Health and Safety at Work Act 1974
Management of Health and Safety at Work Regulations 1999
Resuscitation and First Aid Guidelines 2015
Testimonial
To be updated