Course Information
Date of Next Course: Wednesday 22nd to Thursday 23rd September
Click Here for 2021 Course Dates
Venue: Training Centre, Fire Service Headquarters, Summergroves Way, Hessle, HU4 7BB
Duration: 1 1/2 Days
Validation: 2* Years (1 Year in Germany)
Awarding Body: GWO (Global Wind Organisation)
Our 1.5-Day GWO First Aid Training Course syllabus comprehensively covers the following key elements of first aid and its applied techniques such as;
| | |
| --- | --- |
| Health and safety duties of employers and employees | Overview of relevant legislation, standard and guidance |
| Incident / Injury detecting and reporting | Injuries and illnesses of the human body (signs, symptoms and remedies) |
| Hazards and risks in the workplace | Correct use of techniques for first aid and lifesaving |
| Risk assessments and control measures for first aid | Equipment used to initiate first aid |
| Emergency procedure and safety instructions | Environment factors and site-specific health and safety procedures |
| ABC technique | AED technique |
| Rice method | CPR method |
| Use of first aid equipment | |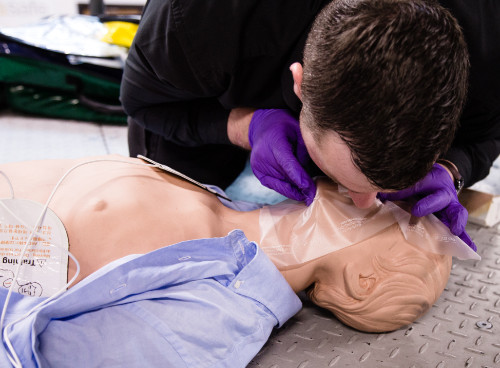 If you are looking for a highly reputable training provider based in the Humber region, who delivers GWO First Aid Training Courses, please contact HFR Solutions CIC on 01482 398521 today.
Course Benefits
Your delegates will receive the following course benefits;
Industry-standard - Recognised GWO accreditation and is valid for two years (*One Year in Germany)
Competence - Delegates will meet the required competencies for first aid in a renewable environment
Qualified and experienced trainers - HFR Solutions CIC instructors are specialists in first aid, basic life support and GWO standards
Real-incident experiences - our instructors have handled rescue, at height, fire, medical and incident response scenarios in real-life
Peace of mind for you– we have successfully delivered numerous fire aid and advanced trauma courses for the renewables sectors
Skills - Highly skilled workforce
Increased confidence - your delegates will be trained in best practice processes for first aid in an offshore environment
Ability to apply best practice procedures – For implementing fire prevention, manual handling, working at height, first aid and marine survival best practice techniques
Safe systems of work – delegates will be able to help implement safe systems of work in their environments
Mobile training units - our working at height can be delivered at your site (In-situ)
Purpose-built working at infrastructure - both internal and external unrivalled working at height training infrastructure in the region
ISO accredited business - ISO9001, ISO14001 & ISO 18001
Upon successful completion of the GWO Fire Aid Training Course, delegates will receive a certificate to confirm they have successfully met the criteria.
Learning Outcomes
Delegates undertaking the 2 Day GWO First Aid will be able to demonstrate:
Knowledge - competence to meet the GWO first-aid standards
Correct techniques - use best practice first aid and basic life support techniques
Best response – trained delegates will be able to administer basic first aid
Safer workplaces – safer employees and reduced chance of personal injury
Increased competence– greater insight and ability to implement best practice
Upskilled employees and contractors - Improved knowledge and confidence covering basic fire safety, safe lifting, working at height practices, basic lifesaving and sea survival techniques within a wind turbine and offshore locations
Better prepared – For handling potential incidents encountered at an offshore location and wind turbine
Ability to apply best practice procedures – For implementing fire prevention, manual handling, working at height, first aid and marine survival best practice techniques
Relevant Legislation
For any of your employees who act in the role of a first aider or medical responder, they must have a good understanding of first aid legislation and how this may impact on your business. We have enclosed some resources, which you may find useful;
GWO Standards - First Aid
GWO EFA Standards
The Health and Safety (First-Aid) Regulations 1981
General Health & Safety Legislation
Health and Safety at Work Act 1974
Management of Health and Safety at Work Regulations 1999
Resuscitation and First Aid Guidelines 2015
Testimonial
Don't Just Take Our Word For It......
"The four courses (Working at Height, Manual Handling Operations, Fire Safety and First Aid) offered by HFRS within Renewables have been "first-class". The expertise of the HFRS trainers have in the subjects areas is what makes HFRS "first-class" as the trainers are from the Fire & Rescue Services that have "lived and breathed" real-life hazardous environments.

The HFRS facilities are welcoming, have and use the proper equipment for courses content with great outdoor and indoor practical working exercise areas. Everyone is approachable, willing to help and support all the course attendees making your day most enjoyable."
Justin Kenyon, HSEO Advisor/Safety Engineer in Renewables, Centrica